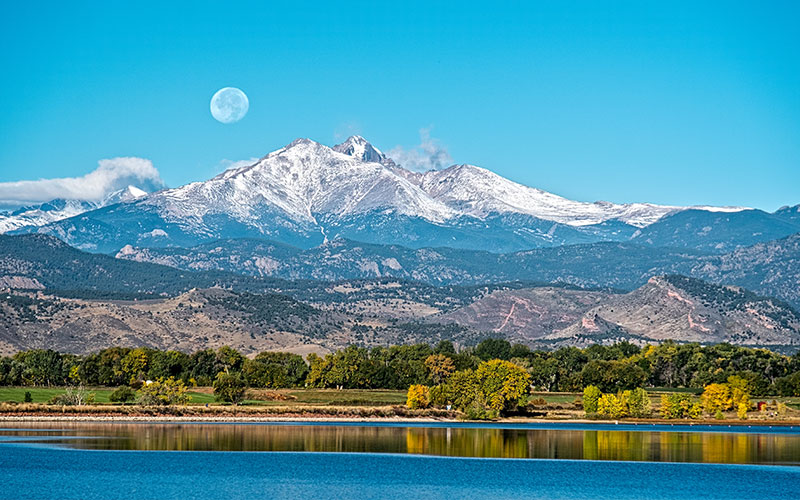 By Pratik Joshi
Staff Writer
Editor's note: An earlier version of this story should have reported that Massimino Development plans to deliver a new building at its Farm Haus Apartments development every six weeks. The story has been corrected.
Longmont is moving into high gear: Efforts over the years to build and promote the city as a brand are producing results.
In 2018, the city approved new non-residential construction and additions that will eventually make available a total of 711,793 square feet for various uses including industrial, warehousing, research and development, retail and office space. That total is more than double the 320,714 square feet added in 2017, and up from the 637,232 square feet in 2016.
In 2015, an unusual year, Longmont added 733,343 square feet.
"In 2015 there were a number of large commercial developments, including the UCHealth hospital, a self-storage facility and Village at the Peaks," Jane Madrid, of the city's Planning & Development Services Department, said in an email.
The number of new residential units approved also reached a high of 1,319 in 2018, more than triple the 410 approved in 2015.
With the inclusion of 312 remodeling projects, more than 3.3 million square feet of dwelling space is slated to come online in the city in the next few years.
And expectations are for growth to keep coming.
The city's Planning & Development Services Department recently released 2018 growth estimates that show a 1.5 percent growth with a total population of 96,192, Shawn Lewis, assistant city manager, said in an email. " I think we'll continue to see growth in residential and commercial developments."
Ongoing effort
The increase in building activity has been an ongoing effort, said Jessica Erickson, president of Longmont Economic Development Partnership. A 2014 study by Avalanche Consulting, Inc. helped the city focus on a plan to strategically market its assets through a public-private partnership, she said.
Avalanche's Advance Longmont Economic Development Strategy was the first comprehensive economic development plan for Longmont in 20 years, Lewis said.
"The plan provided a market assessment that provided us with a better understanding of what industries were strong and increasing or weak and declining in Longmont," he said.
The study helped the city analyze workforce patterns and trends, the levels of entrepreneurship and innovation and a lot more, Lewis said. "The plan also provided a target industry analysis that used information in the market assessment to guide us toward those industries we should focus our recruitment and retention efforts on."
The success in bringing J.M. Smucker Co., the Ohio-based maker of jams and jellies that was looking for a place to grow, to Longmont in 2017 confirmed the suitability of the city's approach to growth, Erickson said. It's helping draw new businesses and real estate developers to reshape the town with the aim of turning it into a destination.
The $340 million Smucker's Longmont plant, which will produce its frozen PB&J sandwiches, Uncrustables, is slated to become operational in third quarter of this year and will create 250 jobs immediately. Another 250 jobs will be added later, Erickson said. The city provided a $6.5 million incentive package for the plant, with a condition future employees be paid 105 percent of Weld County's average annual wage, or about $48,977.
The city's vision for the next 20 years includes developing "Main Street from Pike Road to Colo. 66, and a river corridor stretching from the sugar factory to the fairgrounds as a vibrant economic, residential, cultural and epicenter," Erickson said. The historic flooding of 2013 triggered a new mindset around development, she said.
As Denver and Boulder get saturated with new businesses and residents, creating development and traffic stresses, economic activities will tend to spill over to nearby towns, creating competition along the Front Range among municipalities looking to create their own identities, said Mark Muro, senior fellow and policy director for the Metropolitan Policy Program at the Brookings Institution.
Towns like Longmont are able to achieve projected growth and reap potential benefits "by design and foresight," Muro said, adding the important issue for Longmont is how to manage to growth.
Gary Krupnick, president of West Rac Contracting Corp. in New York, came to Longmont to develop a warehouse for PODS, a moving and storage company. PODS committed to leasing 85,000 square feet long term, Krupnick said. He soon realized Longmont needed Class A office space (the classes A, B and C are based on features and location of the property). There was no such space available for companies looking to grow, he said. In 2017, he ended up buying more land than he had initially planned in order to create additional space for offices and warehouses with ceilings as high as 40 feet.
"There are really no high cube buildings in the whole northwest corridor. The push is out of Boulder," he said, referring to the high costs and building restrictions in Boulder.
He said he negotiated with the city to build a combination of warehouse and office space on Pike Road, which he plans to lease to businesses. PODS is in the process of moving into the building, which is receiving the final touches, Krupnick said.
"We have built office space in the front and warehouse space in the back. You don't see the warehouse from the front of the building. The building doesn't look like a box, and merges well with the surroundings." he said. "The city was sensitive to surrounding neighborhoods."
Krupnick said his site on Pike Road had the necessary infrastructure, along with appropriate zoning before he broke ground in February.
Developers pay for the infrastructure — water, sewer, electrical services and roads — for new developments.
'Less expensive to grow here'
Longmont's location in the center of industrial activity in northern Colorado; connectivity through a network of highways; access to labor and resources; inexpensive power; high-speed internet connectivity and affordability make it attractive for both in-state and out-state businesses, Erickson said. That is how the city is marketing itself, she said.
Krupnick said he thinks companies in manufacturing, distribution and technology will be keen to have a presence in Longmont for the advantages it offers.
"We're actively looking to acquire more property in Longmont. People are coming here, industry is coming here. It's less expensive to grow here," he said.
Erickson said, "We continue to be an affordable place to do business."
Longmont appeals to those looking for suburban living, and to those who prefer a dense urban environment, she said.
The city's vision also includes promoting dense, mixed-use buildings in downtown and supporting the existing industrial base to grow, Erickson said.
Beyond a bedroom community
The idea is to have smart growth to balance development and congestion, she said.
Prospect New Town, which is in its final stage of development at the southern edge of Longmont, is an example of mixed-use development that has added residential and commercial space in the city. The project includes 700,000 square feet of residential space, and about 150,000 square feet of commercial space. Developers say about a third of the commercial space is left to be completed, with an estimated finish date of 2022.
"We accommodate the car, but we try to de-emphasize it to the point you can walk to work," said Kiki Wallace, who began developing the new urbanist housing in the mid-1990s on a former 80-acre tree farm. "A huge volume of subtle details make Prospect what it is."
New urbanist planning, as seen in Prospect New Town, is about designing for "live, work and play" and features narrow tree-lined streets connecting homes to numerous parks and public amenities, shops and offices, Wallace said.
"It's about containing people's lifestyle to the area they live in and enjoying the pleasures of the day instead of driving to them," he said. "We want to complement downtown Longmont."
The city is working to improve the quality of life in Longmont, Wallace said. "It takes time. The pendulum is swinging. There's a realization the old mixed-use, car-centric development doesn't work."
Longmont has the infrastructure to be self-sustaining, to create jobs, to bring businesses and to service a larger population instead of being a bedroom community, where people just return at night to sleep, he said.
Restaurant, retail and lifestyle events can encourage people to live in Longmont, Wallace said, adding that a diverse mix of retail, office and residential space will encourage more diversity of people and jobs.
Affordability at risk?
But much like the rest of the region, growing popularity and population means prices are likely to follow suit.
About his development, Wallace said, "I was hoping to have the low- to middle-income crowd. It became popular. It's become expensive."
There is shortage of mixed-use communities that are designed better, he said.
The median gross rent from 2013 to 2017 in Longmont was $1,139, according to the U.S. Census Bureau.
Longmont has seen a 76 percent increase in home prices since 2010 , according to Kristin Hyser, community investment program manager for Boulder's housing division and manager of the Regional Housing Partnership, who was quoted in a Daily Camera last year.
Last month the city passed the "inclusionary housing" ordinance requiring developers to provide 12 percent of the available square footage in a new residential development to low- and moderate-income buyers and renters.
Ben and Olivia Massimino of Massimino Development will soon start construction of a $67 million multi-family housing complex in Longmont. The project Farm Haus Apartments (formerly Brickstone Apartments) is on a 13.5-acre plot at the intersection of Ken Pratt Boulevard and Third Avenue and will have 280 apartments of varying sizes from 750 to 1,400 square feet. About 12 percent (or roughly 34 units) of those will be deemed affordable for those making 60 percent of the area median income, Ben Massimino said. According to the latest data from the U.S. Census Bureau median household income (in 2017 dollars) is $66,349.
The complex will have eight buildings, numerous pocket parks, a 3,500-square-foot dog park and open spaces for kids to play, said Olivia Massimino. About 4.5 acres of the plot is devoted to open spaces, she said.
"We plan to deliver a building every six weeks," she said. The first building is expected to be completed in April 2020.
Longmont's population is expected to grow and new businesses are expected to open or relocate there as Boulder becomes more expensive, she said.
24,000 more residents by 2035
The population of Longmont is expected to grow roughly by 24,165 new residents by 2035, according to a city planning staff estimate from 2016.
The expansion of Interstate 25 is expected to further encourage economic opportunity in Longmont and northern Colorado. The project will add an additional express lane in each direction from Johnstown to Fort Collins and help lower congestion and keep traffic flowing, according to the Colorado Department of Transportation. The project will be completed by 2021.
Longmont's potential encouraged the award-winning architect team of Lance Cayko and Alex Gore to turn into real estate developers and builders. Their company F9 Productions Inc is building eight condominiums on about a third of an acre at 825 Crisman Drive. Their only question was: "Can this land fit enough units for the type of building we're comfortable with," Gore said. "Each of our each unit is three-stories with big windows. All have a contemporary modern design."
"There isn't a product like this in the city of Longmont," Cayko said.
"Longmont is still the most affordable place live in Boulder County," he said.
They plan to sell their smaller condos for $327,000 and bigger ones for $395,000.
Growth brings new pressures
Economic development experts believe growing housing choices will attract more people, helping create a bigger workforce for employers.
Burrito Kitchens, which has operated out of a leased facility in Longmont for 20 years, is expanding east of Colo. 119, next to the Smucker's facility. The construction of the 25,000-square-foot space will start in the spring and is expected to be completed by fall, said founder and CEO Greg Benson.
He plans to hire more employees for that expansion, but expects stiff competition from the Smucker's facility.
The 2019 Colorado Business Economic Outlook Forecast, compiled by the Business Research Division of Leeds School of Business at the University of Colorado, predicts some industries could face a shortage of labor, particularly construction.
In the greater Denver and surrounding areas, technological growth and automation is making digital readiness necessary for the modern workforce, said Muro of the Brookings Institution.
The growth of the knowledge economy, and the clustering effects could create its own pressures for civic leaders, Muro said. Like any other place poised for development, Longmont will have to deal with issues of ensuring a good standard of living and a sustainable quality of life for people in the community. It can be a tough balancing act, he said.
The idea is to have smart growth to balance development and congestion, said Erickson of Longmont Economic Development Partnership. It takes strong leadership, vision, and strong policy making to support that vision, she said.
"I like to believe it's doable."
Pratik Joshi: 303-684-5310, pjoshi@dailycamera.com